About EMC
EMC Outdoor, is a growing outdoor/OOH (out-of-home) media-buying and placement agency where our PASSION is to be a trusted advisor and true partner to our clients' long-term business success. With planning and buying expertise in every type of (OOH) out-of-home media available, from traditional, non-traditional, lifestyle to event/experiential media platforms; our PURPOSE is to be Clever, Curious and Creative in providing innovative OOH solutions that make an impression and drive behavior.
EMC executes and manages campaigns nationally and worldwide, from single location billboard advertising to sophisticated multi-market campaigns across many outdoor media types with "every media under the sun" in any market — through a single expert source. Our CAUSE is to make OOH a core and integral part of every media mix and plan.
There are no positions currently open. Please check back later.
did you know?
25+ Years OOH Experience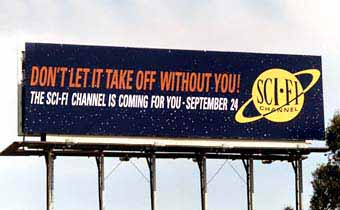 We're thrilled to be heading into our 26th year! This billboard for the launch of the Sci-Fi Channel way back in 1992 was one of our earliest campaigns.
did you see?
We had a great time in Houston helping Sprint reach NFL fans at the big game!
© 2005-2019 emc outdoor, llc all rights reserved